Dear PHBC Family,
I trust that this letter finds you well and blessed in the Lord Almighty.
You will likely have noticed that over the last six weeks or so, there has been a ramping up of government warnings of increased COVID-19 infection rates across the country.  Absolutely all media outlets have played a part in getting across the message that (a) the virus has not gone, and (b) unfortunately a steadily increasing number of people are being detected as having the infection.  I have also, in our Sunday services, encouraged increased caution and vigilance in all our private and public practices, as we seek to keep safe and avoid the kind of lockdown we are seeing implemented across large areas of Northern England and Scotland.
Unfortunately, the infection rate is still on the increase, and not only in the northern cities, but also in London and in particular, in Merton.  From tomorrow, Saturday 17th October, in addition to being moved to Tier 2 local lockdown status, all local authorities in London have now moved their local alert level to High.  Here is what this means:
You must not meet anyone outside your household, or your 'support bubble', unless that meeting is outdoors.
If you meet with people outdoors (as above), you must not be more than six in the group, including babies and children.
Work from home, use online shopping or employ other means to keep your journeying to a minimum.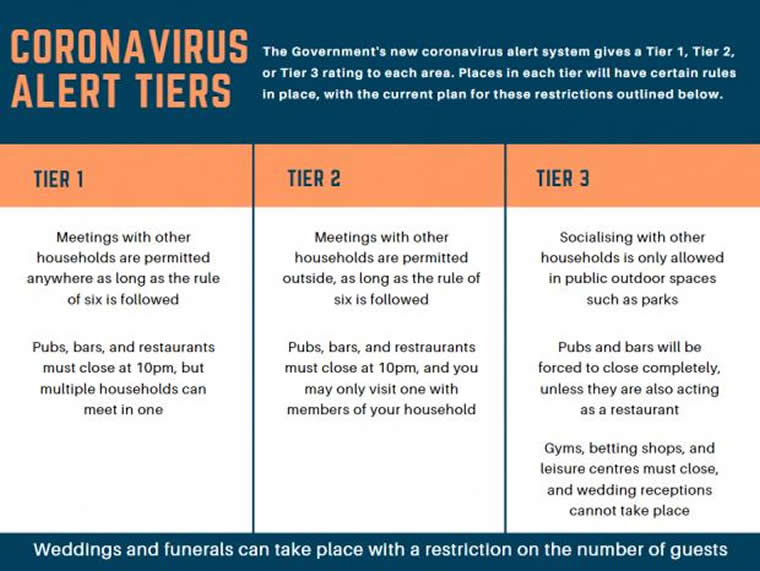 Of course, social distancing, wearing of face coverings in public places, in shops, on public transport and in church, still apply.
As much as the restriction and alert levels have been changed, the law regarding our holding church services has not changed, and by the grace of God, we will continue in-building Sunday services in the way we have been doing since July.  This means that the measures we put in place will remain, including distanced seating, sanitiser and wipes in all rooms, the use of the one-way system through the building, and use of the Peak Hall for overflow, where the activities of the main Sanctuary will be livestreamed.  Of course, we will continue to livestream the services on Facebook, on YouTube, on Twitter (Periscope) and on PHBC Radio as we have been doing, so that you can join in from home, should you wish.
In my last letter on this issue, I urged you not to take any risks with your health and to stay home, if you were in any of the vulnerable or high-risk categories or if you just felt unsure about coming to church.  Now, whilst this is important, I also now want to add that as you look after yourself, please take the time to look out for others, by ensuring to put into practice, habits that will help to keep our family, our neighbours, and our community safe.
As you do all this, should you have any support need, any questions, or concerns, please be assured that the leadership team and I are committed to supporting you, so reach out to us by any available means and at any time.
Now, having said all that, I also want to remind you that hand sanitiser is not our refuge and strength, and social distancing is not our ever-present help in times of trouble.  Our safety and security are not determined by masks, gloves, 2 metre distances or any physical protection.  Only God can keep us, and in these times of uncertainty, I want to remind you of just one thing that is certain, and that is the promise of God given to us via the prophet Isaiah.
"So do not fear, for I am with you; do not be dismayed, for I am your God. I will strengthen you and help you; I will uphold you with my righteous right hand".  Isaiah 41:10
This is His promise to us, a promise that still stands today, it is my prayer that it will be outwardly manifested in areas of your life, and I very much look forward to the continued unfolding of your testimony as you remain rooted and grounded with an unquenchable faith in Jesus Christ.
God bless you,
Rev. Deji Ayorinde
Pastor